Our Mission: The Faith Formation Ministry of Good Shepherd Catholic Church, provide life-long Faith Formation and participation in the Christian life for all members of Our Community. We foster understanding of our Catholic faith, preparation for and participation in the Liturgy and Sacraments. We prepare our people to live a Christian moral life that is nourished by prayer and sustained by community support. We embrace service to the community and society with Jesus Christ's missionary spirit.
Our Goal:  We are committed to create an environment in which we can belong as a community of faith, in which we celebrate what we live in the Holy Eucharist. We are committed to work with families, children and adults so they may discover God's love.
Registration Information:  Student's families must be registered Good Shepherd parishioners. Families, also, must register children into the Faith Formation program by July 31, 2018. We are having an information and open house night on Wednesday, August 22, 2018 at 6:15 pm. The new school year begins Wednesday, August 29, 2018 with a Kick off Extravaganza. First day of class is September 5, 2018.
OFFICE HOURS:   Mondays- Fridays:   9:00 a.m. – 4:00 p.m. (close at 12:00 p.m. for lunch)
DOCUMENTS NEEDED FOR REGISTRATION: 
 Copy of Baptismal Certificate
 Also if children have any previous religious education, we need a letter certifying attendance to former parish or Catholic School religious formation.
CLASSES:   Wednesday Evenings from 6:15 p.m. – 7:45 p.m.
Classes meet on all Wednesdays between the months of September and until the end of May, except for holidays and breaks noted on the calendar.
Vacation Bible School (VBS) "Shipwrecked Rescued By Jesus."
Our summer program is from June 11th  – 15th held from 8:30 a.m. until 12:00 p.m. VBS allows students in Pre-K4, kindergarten through the sixth grade to have a fun, faith-filled and vibrant experience. Bible stories, fund-to-do crafts, lively music, and yummy snacks make up the morning activities.
Registration is currently open.  For more information please call (407)277-3939 ext. 211 or 212 or stop by the Faith Formation Office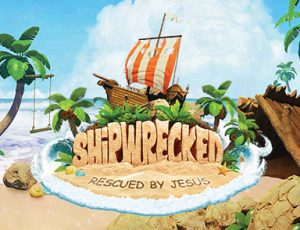 Registration is currently open. For more information please call  (407)277-3939 ext. 211 or 212 or stop by the Faith Formation Office.