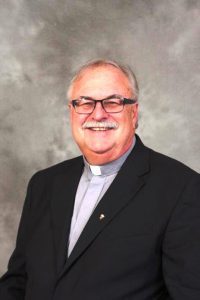 October 8, 2017
Fr. Jim's Jottings
Stewardship and You Entering the Kingdom of God is an open invitation that Jesus earned for us through his death on the Cross. After his Resurrection, Jesus appeared to his disciples and entrusted the Church to them, and through them and by virtue of our Baptism to us.
Being a part of God's Kingdom is our invitation to be Good Stewards. We are invited to spend time with Jesus as his Disciples. We are commissioned to minister in the Church and to the world by becoming apostles by using of our talents. We also contribute to the needs of the Church and world by sharing God's gifts to us in our commitment to treasure.
 It all begins with Time. These next two weekends we will be given the opportunity to make our most basic commitment to the Lord, being his disciples. Our Time commitment is a sacred covenant that we make with the Lord and his Church to gather together for Sunday Eucharist, to pray, to learn more about the Lord and our Faith and to enjoy each other's company throughout the year in a variety of different ways.
We cannot do everything but we must do something if we are to be His disciples. Choose your way by filling out the simple pledge form at mass today or next weekend, select your way to pray, to learn and to build your community ties.
Finally in two weeks, we have our International Festival, a time to enjoy the richness of our diverse parish. Hopefully all of you will have a chance to be a part of this special day. Maybe you could even bring a dish to share, possibly one of your family's favorites.