LIVESTREAM MASSES
Good Shepherd will Live Streaming on Facebook and also can be seen after on Good Shepherds Youtube Channel
---
From Bishop Noonan
During this time of Lent, I turn to our Lord, Jesus, who is the leader of our world and our guide. I ask our entire community of faith to pray for those already diagnosed with disease and sickness, no matter the source, and for those who are suffering at the hand of injustice and disregard for their sacred being. Let us not fall prey to fear; but, seek the courage of Jesus as He began the walk from Jerusalem to Calvary.
-Most Reverend John Nooonan, Bishop of the Diocese of Orlando
---
Florida Catholic Digital Edition
There will be no pr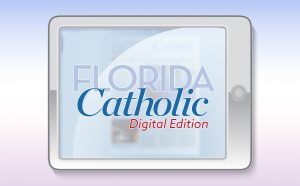 int editions of the Florida Catholic for the month of April. Instead, Florida Catholic will offer the digital editions of the paper free of charge. Visit https://thefloridacatholic.org/ each week to stay on top of news during this ongoing, global crisis./>
---
Ministry to the Sick
For even if I am absent in the flesh, yet I am with you in spirit, rejoicing as I observe your good order and the firmness of your faith in Christ.
Colossians 2:5
In the parable of the good Samaritan (Luke 10:25-37), Jesus gives us a model of compassionate care for those who are suffering. As Catholics, we are inspired by this and similar passages to visit those who are sick and suffering, bringing them the most holy Eucharist and offering consolation and friendship.
As care facilities change their policies to safeguard the people they serve, we will encounter an opportunity to be creative in how we minister to and accompany our brothers and sisters in Christ. When we are unable to be physically present, we can still find ways to connect with, listen to, console, and be in solidarity with one another.
This may include preemptively obtaining contact information, when allowed, to be able to call and offer support over the phone or to write and send letters and cards. You may also want to share your contact information and ask others to save it into their phone or device, so they recognize you when you call. We can also familiarize ourselves with video calls and assistive devices for those with unique hearing or vision abilities.
As always, we encourage you to prayerfully and prudently discern how God is calling you to carry out the Gospel. As we consider the common good, the Church reminds us to consider both "respect for the person" and "social well-being" (CCC, 1907-8).
---
Behavioral Health Services
The outbreak of coronavirus disease 2019 (COVID-19) may be stressful for people. Fear and anxiety about a disease can be overwhelming and cause strong emotions in adults and children. Coping with stress will make you, the people you care about, and your community stronger. (CDC: coronavirus disease 2019).
Click here to learn more.