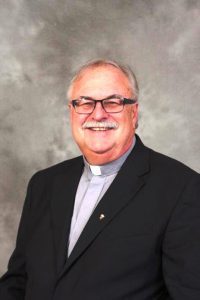 September 17, 2017
Fr. Jim's Jottings
This weekend our parish begins its formal Stewardship Program as in the next five weeks we focus on the Stewardship of Time. Stewardship is a strange word to many Catholics. It uses the scriptural images of Jesus in describing those who are his followers in the Kingdom of God. Kingdoms or Being part of the People of God or just being baptized as a child of God imply a responsible relationship.
When God called Noah or Abraham or Moses and their followers into a covenant He basically said: "I will be your God, if you will be my people." There's a mutuality that's implicit in the covenant: God has a role to play in our lives – by creating us, nurturing us, enabling us by his grace, showering us with his love and bestowing upon us his mercy and forgiveness. Those are the basic things that we know and expect God to do for us and our world. The other half of the covenant is that we will do our part in the equation: "we will hallow his name, we will build his kingdom in our midst, we will share his forgiveness and mercy with those who have trespassed against us." We will be responsible disciples through prayer, through learning more about Jesus, our Faith and our Church and by being involved in the life of God's people.
This response is not something that is part-time or hit and miss; it is part and parcel of who we are and who the Lord calls us to be. It's not merely about going to Church on Sunday and Holy Days – it's all about having a strong personal relationship with God and the Church. Being in the Church obliges us to come together for weekly Eucharist and experience the Word and Sacrament that feeds and strengthens us. It also means that we develop our prayer life daily. How we pray is our choice, that we pray each day is our obligation. It's the core of a relationship: communication, sharing or burdens being supported by one another. Even more so this applies to our interaction with God. This can happen in the quiet of our room, or as the family gathers for meals, when we attend a time of group prayer of special services in the Church. Again, it's not do everything, it's doing something consistently.
Being a disciple of Christ means study regularly in our life. It's amazing how easy it is to read a Catholic newspaper, magazine, article, or watch a television show at home on EWTN, the history channel, special presentations on cable stations, a DVD, a Catholic book on Spirituality, the life of a Saint, the Scriptures or the Church and its beliefs. The parish offers a variety of faith enrichment programs so that we can learn more about God and who he calls us to be. The Missionaries of La Salette offer free books and study guides to help us understand who Mary is and who we are called to be as her children. We have a pamphlet rack and books that you can borrow to grow in your faith. All of us know that despite formal education having ended when we left school, there was lots that we did not know and we would learn over the years. The new challenges us to grow in knowledge and experience and that means more than picking up the internet, computer, Window 10 or iPhone 10, the latest gismos and gadgets, the newest medicines that cure illness that we never even new existed or thought we had. Education is a life long process and so is faith formation.
Being in the Church means that we participate in activities together. We socialize with one another. We attend to our fellow parishioners' days of celebration and sadness. We care for one another out of a sense of deep obligation for the well being of friends and neighbors, the poor and the needy, the sick and the dying. This all makes us family and help us to show to the world that we truly are a family. Regular planned interaction is critical to us being church, just as it was for the disciples to travel together, cook meals and eat them, accept the generosity of others, fish together and interact with the family and other back home. Jesus taught them and us how to be pilgrims together on the journey.
We begin the adventure of being Stewardship by first making a commitment own time. We choose what we can best do, what fits our needs and desires and personality. BUT WE CHOOSE. It's not and optional extra, it is our responsibility to give make a commitment to be a disciple, to pray, to learn and to share experiences with each other. Stewardship is not just for adults, its for each of us at an age appropriate level. So we will invite our children, our youth, our adults of all ages, or healthy and our infirmed to do what they can to live up to the covenant of being God's Disciples.