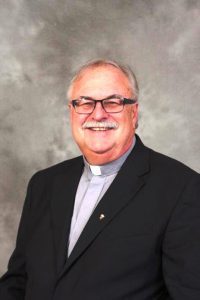 July 9, 2017
Fr. Jim's Jottings
Fr. Jim's Jottings
Stewardship Council Formation
This Wednesday evening we will be starting a new Council to guide the Stewardship Program in Good Shepherd Parish. I'd like to invite everyone to come to this meeting and better understand the Stewardship process that we are developing for the parish and see the way that it can impact the life of every parishioner and also the various groups and organizations that are here at Good Shepherd and those we may well develop in the future.
Stewardship is based upon the Gospel call to follow Jesus in our lives. It's not an optional extra but fundamentally a responsibility that is our by virtue of our Baptism. When we were baptized we were called and anointed to be Priests (people who make our world holy by our relationship with God and the Church); to be Prophets (workers in the field of the earth testifying to the truth through our love of God and Neighbor); and Kings (responsible to God and the Church to do our part to see that the Kingdom truly comes into the world in which we live.) Stewardship is not an option, it's not a volunteer program, and it's not a finance program. It's a lifetime commitment that we are called to make as Disciples of Christ.
Stewardship has three different phases that we will annually celebrate together. In September and October we begin with the Stewardship of Time. Time comes in three basic parts: our Time with God: in prayer, worship, reading the Scriptures and attending retreats, missions and days of reflection; our Time with Faith Formation: learning more about Christ and his Church through attending classes, small group sharing, watching spiritual and religious programs on DVD, or Television, reading spiritual books or learning about the faith in any way we can; our Time with the Community: social time where we gather with others with enjoy each other's company and see relationships grow; this includes dances and parties, coffee and donuts, sharing a meal, attending a movie night or performance, going to a sports event in the gym or school fields.
We will begin with an introduction by me at all the masses in September, followed by a focus on Stewardship by the homilists at masses and additional by witness speakers. In October we will have a Time Signup for all ages make a commitment to our use of time to build our relationship with God and the church. Finally we will finish the segment with an International Festival that replaces our Family Day.
In November we will use the same basic steps to express our Treasure Commitment. We all know that we are responsible to others: the parish and Diocese, various causes and activities, helping family, friends or neighbors; reaching out to those who are in need. The Treasure Commitment is the creation of a specific Covenant with God that will enable us to make sacred our giving. We recognize that God has blessed us with many God Gifts and we share the first-fruits of his goodness with others. The Treasure Campaign will end with our Parish Christmas Party and Concert just before Christmas.
In April and May we will hold the Stewardship of Talent portion of our program. We will begin with a ministry fair and the production of our annual Stewardship booklet. These show us the opportunities to serve one another by ministry in the parish and beyond. Our community is strong because of the willingness of a formidable group of people willing to give to others of the God given talents and abilities that they received for the use of others. The program will be presented in Church at the masses by me, the homilists of the days and also lay witness talks. There will be a commitment Sunday in May that offers us the opportunity to offer to God our willingness to serve. Again all will be invited to participate in our own way, we'll finish up the process with our spring fling (yet to be arranged but a picnic of some kind with events for all ages.
So we need people willing to help: if you have ideas then come and share them; if you like to cook and throw a party then join us, if you lead a group or ministry then make sure that you come or send a representative, if you can stuff envelopes we need you, if you have a strong conviction about the joy of disciple then we can use your witness, if your involved in ministry and want to encourage others to join you then be there, and if you're not currently involved but want to see the one way you can help us grow the community of Good Shepherd there's place for you. Thank you for your interest. See you Wednesday