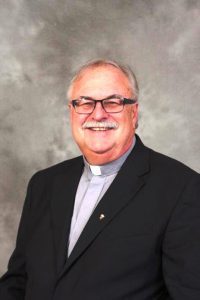 April 16, 2017
Fr. Jim's Jottings
Happy Easter! He is Risen!
As we celebrate the Resurrection of Jesus Christ from the dead and our gift of New Life Eternal because of Him, we are challenged to live that new life to the fullest and make the Risen Lord present in the world today. Easter calls us to be risky people who are willing to leave our comfort zones – our tombs of safety and security – to lead lives that are full and challenging to ourselves and the world around us. The resurrection narratives not only talk about the empty tomb, or the appearance of Jesus in the Upper Room, or in the Garden or on the Road to Emmaus or by the Sea of Galilee. The stories are not merely about the women at dawn, Mary Magdalene. Peter and 5th other disciple, the despondent two on the road or Thomas and the other disciples. Each of these individuals in the various locations encountered the Risen Lord and were changed by that reality. They gained a new life for themselves filled with enthusiasm and excitement, they would soon be out on the rooftop preaching, doing miracles in the temple area and yes risking their lives and even suffering and for some death. The disciples show us how the gift of new life should be lived: without reserve, without counting the cost and with a willingness to risk.
As Christ's followers today in our own country we basically enjoy a freedom to live out our faith to the fullest. While religious freedom is not absolute, we are able to worship our God personally and to follow in his ways. We have seen too often in other countries where people are persecuted and even martyred for their faith and living in a Christian way. They take up the challenge of their circumstances while we so often let inconvenience or fear of others opinions or other activities and interests stand in the way. As we celebrate the 7 weeks of Easter let the power of these events and people inspire you to take action, to live your faith more fully and to bring new life into the world in which you live.
Fr. Jim
Faith – Reflections by Fr. Rene Butler for next weekend
(Second Sunday of Easter: Acts 2:42-47; 1 Peter 1:3-9; John 20:19-31)
We tend to think of faith as a matter of the mind, like the knowledge or awareness of any truth. But we see in today's readings that faith is much more. The first community of believers was led by faith to share with one another everything they had. The believers to whom St. Peter wrote were willing to prove their faith through trials. And Thomas the Apostle, once overwhelmed by faith in the Risen Christ, cried out from the depth of his being: "My Lord and my God!"
In the case of the Apparition of Our Lady of La Salette, the response of those who came to believe took primarily two forms. First was a return to the practice of their faith. Maximin's father, Mr. Giraud, like Thomas in the Gospel, did not come to this belief easily. But once he did become a believer, the first thing he did was to go to confession. After that, he went to Mass every day for the rest of his life. (He died nearly two and a half years later.)
A second response was a deeper understanding of Mary's role in our life. It was ordinary believers, not the official Church that gave Our Lady of La Salette her title, Reconciler of Sinners. Yes, reconciliation with God, reconciliation with the Church—Mr. Giraud is a good example—these are the natural and spontaneous effects of faith in the Beautiful Lady. And, like the faith shown in today's readings, it leads us to "rejoice with an indescribable and glorious joy," "with exultation and sincerity of heart," just as "the disciples rejoiced when they saw the Lord."
Perhaps we ourselves have experienced periods of doubt. We all know people who have little or no faith.  This is distressing to anyone who understands the real difference between ordinary knowledge and faith. Knowledge has to do with content, with facts that can be useful, fascinating, even beautiful. But ultimately they don't really matter. St. Thomas Aquinas, one of the greatest theologians in history, realized one day that all he had written was just so much straw.
Faith affects us in so many important ways, and provides a solid foundation for our lives. Faith matters.